Recoil Racing is German Formula 1 champion at school – with wheels made at the Chair of Applied Physics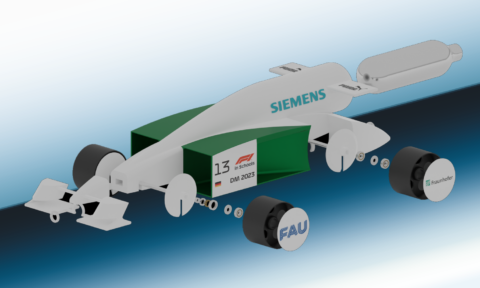 F1 in schools is a technology competition in which teams of 3-6 school students design a miniature car, build it and send it into the race. There is a comprehensive set of rules to follow – similar to the big Formula 1. The cars are powered by opening a CO2 cartridge, and the car then races along a nylon cord on a straight track to the finish line.
The Erlangen team Recoil Racing from the Marie-Therese-Gymnasium won the German championship after the South German championships on March 12-13. Our congratulations!
The Chair of Applied Physics and its fine mechanics workshop supported the project by manufacturing the wheels. This not only required expertise – it also took some trial and error and long discussions to optimize the parameters Recoil Racing requested. FAU's F3G-Verbund has kindly provided funding for this, as the project makes a major contribution to promoting the next generation of girls in STEM fields: The MTG team has equal representation!
The current Racing Reptile (RR6.16) vehicle thus set the fastest time in the competition: 1.059 s on the 20-meter track. Recoil Racing also won the special prizes "Design Award (Best Vehicle)", "Best Presentation" and "Best Portfolio Company".
Recoil Racing thus has permission to start in the international championships in Singapore, which, however, requires a completely new design.
See the webpage of Recoil Racing for further information.